They may fill up every millimeter of Edsa's entire length and breadth from Baclaran to Monumento and still amount to nothing. As it is, the throngs of pro-Erap rallyists at the Edsa Shrine, now numbering in the hundreds of thousands, is a mass gathering wanting in meaning.

Not that the protesters, mostly the dirt-poor masa, have no right to redress their grievances. They have, in fact, legitimate and more valid reasons in their long-enduring impoverished and unjust conditions to rail against than a perceived mistreatment of their detained idol, deposed president Joseph 'Erap' Estrada.

Because Edsa isn't merely a "numbers game," no matter how the habitual liars and deranged sycophants of the deposed president are trying desperately to reduce it to. For sure, that motivation is to be understood of such manner of beings who profess by the dictum that principles can be prostituted and that causes have their corresponding price—something in the amount of P3 billion.

Since Erap's arrest, the unscrupulous lot has been hoarding poor folks by the busloads, even shiploads, to Edsa to stage their own version of people power. In the guise of defending democracy, they are however fomenting a class war, spreading disinformation and exploiting the event to prop up their sagging political fortunes in the light of the coming elections.

They ought to realize that Edsa is not the bosom from which evil designs and selfish political machinations are nurtured. At Edsa, we freed ourselves first from the tyrannical rule of a dictator and then a Mafia-like presidency, however imperfect the paths we took in their aftermath. The Marcoses and their rapacious and murderous ilk, some of whom continue to run for public office, remain unpunished and unrepentant to make a mockery of what we've fought for in Edsa.

There's no place in Edsa for illegitimate causes that are waged to restore corrupt and bankrupt regimes, specifically one that placed a so-called makamasa president's self-interest over and above the interests of those he vowed to serve. True, eleven million predominantly masa votes catapulted Estrada to the most powerful position in the country. But what he did with that overwhelming mandate was the more relevant issue about his tenure, something that remains unwittingly lost on his rabid followers, yet consciously so among his shameless lawyers and cohorts.

It is just plain deplorable that the poor keep falling for false idols like Estrada, who has shrewdly etched in the masa's collective memory the image of Asiong Salonga, defender of the poor, one of their kind. Never mind that their fallen hero, in real terms, isn't every bit one of them, one whose life is given to filthy-rich luxuries but who could only provide them a mere pittance—occasional shopping bags of groceries during his birthdays, poorly built excuses for homes, meaningless land titles.

Even more deplorable, they are now being misled again at Edsa by Erap lackeys who are as pseudo-pro-poor as him, all in the name of a return to their thieving, "weather-weather" ways.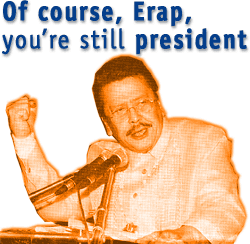 Indeed, we may allow Joseph Estrada a little breather from harsh realities. After all, he prefers to dwell in the surreal—in his celluloid world where he is known by his screen name rather than by the one he was baptized with. Seemingly not content with that alias, he has even gone to christening himself other fictitious names like Jose Velarde, Jose Rizalisto and Kelvin Garcia.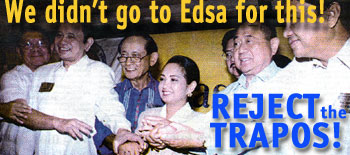 The number 11 has formed part of the Devil's insignia.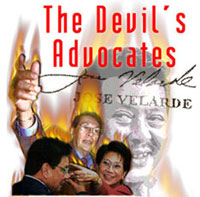 On the night of January 16, the votes of eleven senators sitting supposedly as impartial judges in the impeachment trial of Joseph Estrada aka Jose Velarde ensured that.

click on image to download wallpaper
Read also:


By exercising the right to suffrage, the individual abdicates his or her sovereignty by handing it over to a representative. In so doing, the individual loses control over decisions that may be reached in his or her name.

dare never to forget their names
"pork barrel lang ang katapat" representatives who did not sign the impeachment resolution:
ABAYON, HARLIN C. 1D - Northern Samar
ALBANO. RODOLFO III 1D - Isabela
ANDAYA, VICENTE, J., JR. 2D - Capiz
ANGARA-CASTILLO, BELLAFLOR Ld - Aurora
ANTONINO, LUALHATI 1D - South Cotabato
AQUINO, AGAPITO 2D - Makati
BACULIO, AGUSTO H. JR. 1D - Lanao del Norte
BANAAG, LEOVIGILDO B. 1D - Agusan del Norte
BARINAGA, ROSELLER L. 2D - Zamboanga del Norte
BASCUG, ALEX G. LD - Agusan del Sur

pyutcha
[yano, 1996]

beta beta pyutcha

beta beta beta pyutcha
beta pyutcha beta pyutcha
bet your pyutcha
for brighter pyutcha
are you really really really sure
kung merong beta pyutcha

ano ano ano ba'ng bago

pare-pareho ang gobyerno
hinding hinding hindi ko mapiktyur
kung merong beta pyutcha

'di tayo inaasikaso

puro atraso bulilyaso
'di tayo umaasenso
parang impyerno puro demonyo

ang alam ko na sigurado

lahat po tayo
niloloko
nililito
ginugulo
ginagago
binobobo

ak yu!
Don't you just miss Yano's rage?!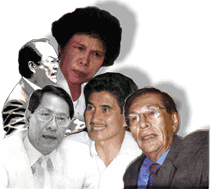 Paloloko ba Tayong Muli sa mga Desperadong Kampon ni Erap?
ekspat.com

Mga kapwa namin Pilipino,

Bigyan naman natin ng kaunting dignidad ang ating mga sarili at tapusin na ang pambababoy sa ating mga sarili ng mga katulad nina Miriam, Enrile at mga desperadong kakuntsaba nila. Pinagtabuyan at minaliit na ni Miriam ang ating pagka-Pilipino. Kung anu-ano ring klase ng pagbabantang walang katuturan ang sinawalat niya, anong kabaliwan pa ba ang kailangan natin para magising sa katotohanang ginagago lang tayo ng mga trapong tulad niya habang nagpapanggap na kampyon ng masa? Kampon ng lagim siguro ang ibig niyang sabihin.


Desperately Espousing People Power 3?
KOMPIL II

The debate about whether Estrada should be jailed or not is not all about the rich versus the poor nor the Gloria Macapagal-Arroyo administration versus the Joseph Ejercito Estrada administration. The arrest of deposed President Joseph Ejercito Estrada a.k.a. Jose Velarde is the triumph of every Filipino who sympathized with People Power II.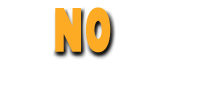 The Patently Trapo

1.

JINGGOY offers to resign as president of the League of Municipalities of the Philippines (LMP), feeling useless with the ouster of his father from the presidency. Yeah, as in no more ready access to largesse for distribution to subservient mayors.

2. GLORIA Macapagal-Arroyo and Fidel Ramos insist on Noli de Castro's inclusion in the "People Power Coalition" Senate slate on the basis of the TV newscaster's high popularity rating in surveys. Didn't Edsa 2 repudiate just that—popularity does not a good public servant make? They obviously have yet to learn that lesson.

3. EX-SUPERCOP Ping Lacson swore never to become a politician, saying politics is a dirty game. Now he has accepted the invitation to run as senator under Edgardo Angara's trapo party, the Laban ng Demokratikong Pilipino (LDP). His alibi, he wants to try another realm of public service. Oh please! We're tired of politico doublespeak.

4. WITH THE campaign period still to start, Dong Pinocchio, er Puno, litters Quezon City with pathetic pseudo-environmental posters bearing the "Magtanim ng Puno" slogan. To the voters, I say, plant a tree alright, but never the stunted Dong variety. It's meant only for a bonsai garden.

The Great Left Divide
Rival factions of the Left have been quick to accuse each other of having the motives to kill Felimon 'Ka Popoy' Lagman, the leader of the radical labor group, Bukluran ng Manggagawang Pilipino (BMP), who was murdered by unknown gunmen last February 6. A better understanding of the history and context of the rift between former ideological comrades is offered by this special report on the Philippine Left. It also gives a glimpse into Ka Popoy's controversial personality.




Erap refuses to get it



To the very end, Joseph Estrada would seek refuge in technicalities.
Under siege by tens of thousands of anti-Estrada protesters who reclaimed Mendiola from his lumpen supporters on January 20, the fourth day of People Power 2, the disgraced president was forced to finally leave Malacañang, his seat of power for the last two and a half years—but not without casting "serious" doubts on the legality and constitutionality of Gloria Macapagal-Arroyo's oath-taking as his successor.


READ PAST EDITORIALS

"That whenever any form of government becomes destructive of life, liberty, and harmony, it is the organic duty of the young members of that species to mutate, to drop out, to initiate a new social structure, laying its foundations on such principles and organizing its power in such form as seems likely to produce the safety, happiness, and harmony of all sentient beings."