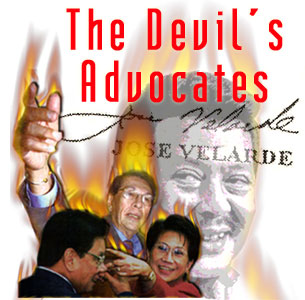 The number 11 has formed part of the Devil's insignia. On the night of January 16, the votes of eleven senators sitting supposedly as impartial judges in the impeachment trial of Joseph Estrada aka Jose Velarde ensured that.
By a slight supremacy in numbers, senatorial misfits—Tessie Aquino-Oreta, John Osmeña, Miriam Defensor-Santiago, Juan Ponce Enrile, Francisco Tatad, Ramon Revilla, Robert Jaworski, Blas Ople, Vicente Sotto III, Gregorio Honasan and Anna Dominique Coseteng—denied the prosecution's motion to open a second envelope containing far more damaging evidences against the president.
By their votes, the 11 pro-Erap cohorts in the Senate finally showed their true color, tainting whatever semblance of credibility this impeachment trial had and dashing whatever shred of hope the people harbored about it. But for those happy coincidences we can only be thankful to the unassailable character of its presiding officer, Supreme Court Chief Justice Hilario Davide Jr.
Now that the diabolical legion has waylaid truth and justice in the impeachment court, any continuation of the trial only lends itself to farce—as farcical as Estrada's propensity for calling everybody but himself liar and corrupt.
It's high time the Filipino people exorcise these demons.

THE BEST DEFENSE
IS OFFENSE
Or rather, to put it aptly in this case, being offensive.
The purported legal eagles that they are, Estrada's defense lawyers have only made an abhorrent spectacle of themselves with their decrepit tack—that of conveniently resorting to credibility-bashing of prosecution witnesses in order to crush to pulp the substance of their testimonies.
It was consoling to know, though, that lying comes naturally to Estelito Mendoza and that an erudite former chief magistrate confuses his Shakespeare and his world history.